Granby is an ideal base camp for hunting, surrounded by vast expanses of public land and a variety of big and small game. Granby hunting areas are located within the Colorado Game Management Units 18 and 28.
Hunting & Outdoor Gear
Country Ace Hardware
Granby's Country Ace Hardware carries hunting supplies, camping and outdoor gear, hunting licenses, and a large selection of adventure and outdoor products. Learn more about Country Ace Hardware. 
Simply Outdoors
Simply Outdoors carries hunting supplies, ammunition, and hunting licenses, as well as camping and outdoor gear. Run by the same owners as Beacon Landing Marina, they also offer fishing supplies, tackle and guided fishing. To learn more about Simply Outdoors, contact Beacon Landing Marina.
Two Pines Supply
Two Pines Supply carries outdoor clothing and accessories as well as camping and outdoor gear. Learn more about Two Pines Supply.
Outfitters
Arapaho Wilderness Outfitters
Arapaho Wilderness Outfitters elk and deer hunting camps include a main cook tent as well as several client tents with cots and wood-burning stoves. The main trailhead is approximately 15 miles north/then southeast of Granby, off of Hwy 6. Base camp (depending on the location used) is normally about 2-3 miles on horseback from the designated trailhead. Learn more at https://awocoloradoelk.com/
C Lazy U Outfitters
C Lazy U Outfitters provides world-class guided hunting trips on 16,000 acres of private land with the comforts of a luxury guest ranch. They offer all-inclusive big game hunting trips for elk, mule deer, moose, and pronghorn antelope, with archery, muzzle loader and rifle hunts. Learn more at C Lazy U Outfitters.
For additional outfitters in the Grand County area, check the Colorado Outfitters Association.
Shooting Ranges
Byers Canyon Rifle Range
Located 4 miles west of Hot Sulpher Springs on highway 40, facilities include a .22 Range, Handicapped Range, Pistol Range, Restrooms, Rifle Range, and Shotgun/Archery Range. Learn more about the Byers Canyon Rifle Range.
Crooked Creek Trap Club
The Crooked Creek Trap Club is a private club home to three trap fields, one skeet field, one five stand field, and a pistol range; offering open shooting hours, leagues and events. Learn more about the Crooked Creek Trap Club. 
Granby Hunting License Locations
Ace Hardware
627 Agate Ave, Granby

C Lazy U Ranch
3640 Highway 125, Granby

Clack Motorsports North
6862 US Highway 34, Granby

Granby Bait N Tackle
383 E Agate Ave, Granby

Simply Outdoors
255 Agate Ave, Granby
Where to Stay & Eat
From quaint cabins to motels, and campgrounds to sweeping guest ranches, the Granby area has accommodations to suit your needs. Learn more about Granby lodging.
Whether you want to grab food on the go, or go out for a hearty meal after a big day of hunting, Granby has a great selection of options for delicious food. Learn more about Granby restaurants.
A Note about Safety
Many hunting areas are also shared with other recreation users including campers, hikers and bikers. We ask that both hunters and recreation users practice caution during the hunting season. We recommend for recreation users and your pets to also wear bright orange during the fall months season to be more visible.
Hunting in Colorado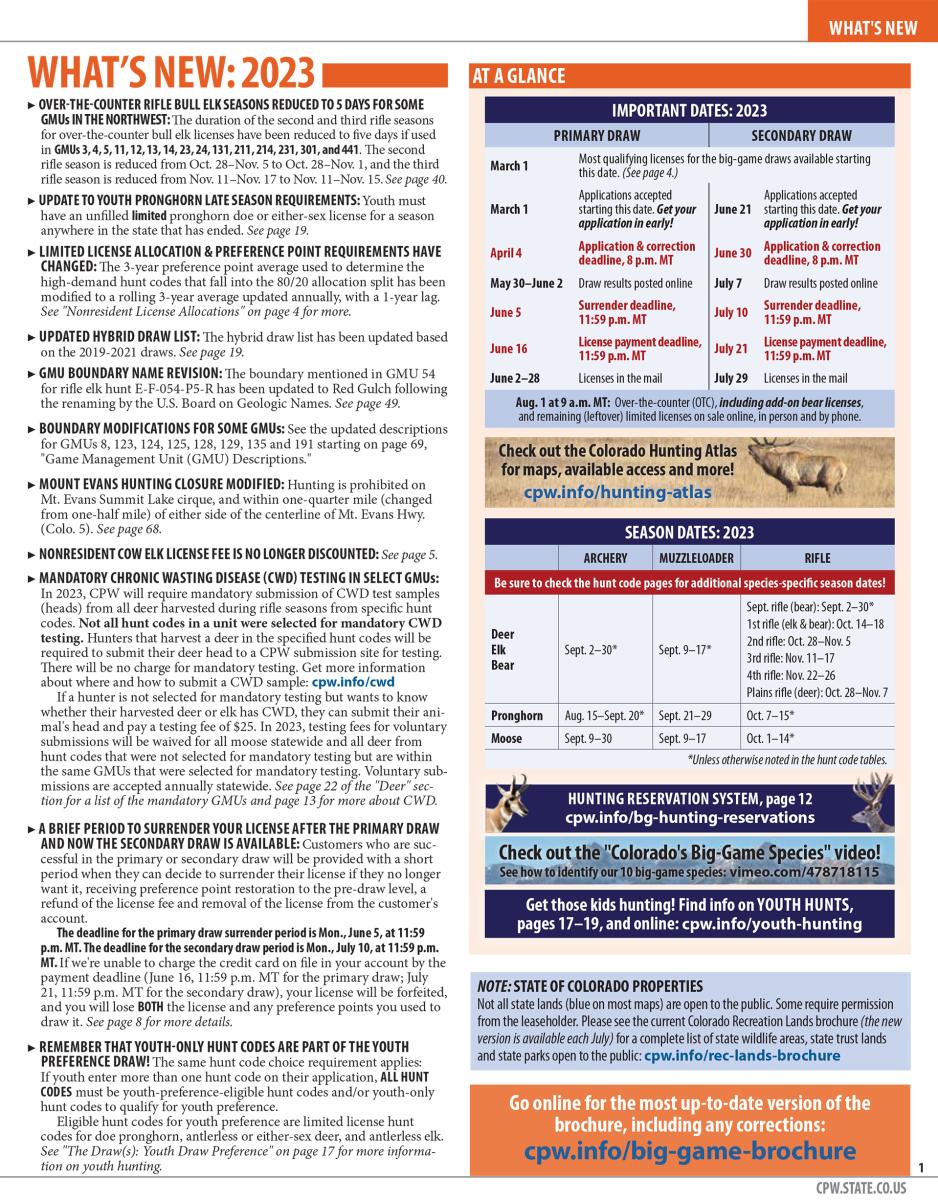 For additional resources about hunting in Colorado, please visit the Colorado Parks and Wildlife website.